| | |
| --- | --- |
| Origin | Ethiopia |
| Region | Hambela Woreda, Gedeo Zone, Oromia Region |
| Producer | Primrose |
| Fermentation | Natural (dried on African beds) |
| Arabica Variety | Heirloom |
| Altitude | 1700-1900m |
| Roasting profile | Omni Light (good for espresso | filter) |
| Resting period | Filter 7 days | Espresso 14 days |
About Hambela
Hambela, loosely translated means 'to go on' or 'to travel for'. Nestled in the Oromia Region, the Hambela woreda is in close proximity to the Idido and Kochere woredas in the Gedeo Zone. If you travel to the area, you will find rows upon rows of raised drying beds, stacked with cherries, surrounded by the beautifully dense and green Ethiopian forest.
The small-holder farmers in the area grow completely organic and pesticide-free coffee trees due partly to the lack of funds required to purchase chemical products but also to the lack of need for them given the naturally incredibly nutrient-rich soil. The trees are left to grow wild and free, with minimal pruning involved, and during harvest, the cherries are transported to the washing stations daily, mostly by foot. There exists a natural wonder around the coffees of Ethiopia and with very little involvement and manicuring of the coffee trees by people, we can truly taste the natural effects this land has to offer.
This coffee was sourced through Project Origin and delivered to us courtesy of Artisan Green Bean.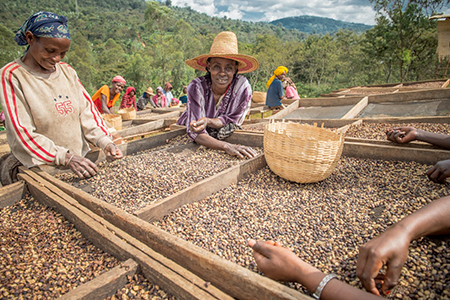 Processing Details
Cherries are harvested from October – January and taken to the washing station where small-holder lots are combined.
Coffee is hand-sorted to remove under- and over-ripe cherries and select cherries between 18-22 brix.
Cherries are dried on raised beds in full sun to allow the beans to absorb the sweetness and fruitiness from the cherry pulp and skin.
During drying, cherries are regularly turned to ensure even drying and maintain clarity. On very hot days cherries are covered in plastic to control the drying rate.
Cherries remain on raised beds and are frequently turned for 18-30 days until moisture reaches 10-12%.
Dried beans are then stored in the dried cherry pod for protection and to maximize sugar and fruit flavor absorption until milling and export preparation.
Primrose does further quality control and sorting during milling. As a minimum, they do a triple-pass through a color sorter and a triple-pass through hand- sorting tables to improve overall quality.
Arabica Variety Heirloom
WHAT IS THE MEANING OF "HEIRLOOM"?
As per the definition provided by the Oxford English Dictionary, the term "heirloom" signifies a valuable item that has been in a family for multiple generations. In the realm of coffee, it is widely used to describe longstanding cultivars of the Coffea Arabica plant from Ethiopia.

In the Ethiopian context, "heirloom" frequently pertains to coffee varieties that are indigenous to the country, many of which still exist in their natural state. Ethiopia boasts an estimated 10,000 to 15,000 heirloom coffee varieties, with the majority yet to undergo formal genetic identification.

These heirloom coffee varieties are generally categorized into two groups: JARC varieties and regional landraces. JARC varieties are those that have been developed and researched by the Jimma Agricultural Research Centre, typically selected for desirable traits like disease resistance or increased yield. On the other hand, regional landraces consist of coffee trees that grow naturally in the wild.