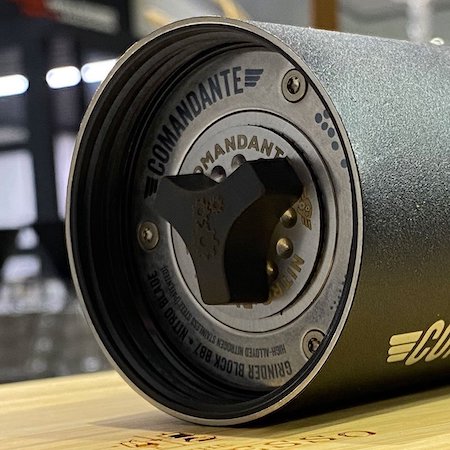 The models may look different on the outside, like, their body is covered with different types of wood or the surface is specially treated, e.g. with a layer of powder. However, the body and the grinder are always the same: the result of German engineering. The grinder has been developed for many years and is made of special high-quality stainless steel, which is particularly sharp and durable. In addition, the grinder is chemically neutral, which means that the oils and acids in freshly ground coffee remain untouched.
Knives:
The selection of grinding knife material is the result of dedicated research and development. Previously, in 2015, a special stainless steel alloy with a high concentration of nitrogen was chosen, with a fine martensitic matrix for the grinding discs for the top series, of the Comandante production. The geometry and structure of the Nitro Blade discs were further improved to achieve grinding performance, also looking for the particle distribution that worked best with the fresh, specialty coffee beans. Manufacturing a Nitro Blade is a serious engineering task that requires special tools and equipment, excellent craftsmanship, and a lot of experience. High nitrogen martensitic steel is extremely difficult to work with. But when finished, it is hard, wear-resistant, and has a high degree of edge retention.
Axle with bearings, with micro balls
The central axis is fixed and supported by two bearings, with micro-balls, for a better distribution of force and impulse. Both ball bearings are encapsulated with rubber for protection and proper operation. The crank is made of stainless steel and can be removed to better fill the C40. The disc on the crank has been pressed on fairly solid stainless steel, but can be adjusted if necessary.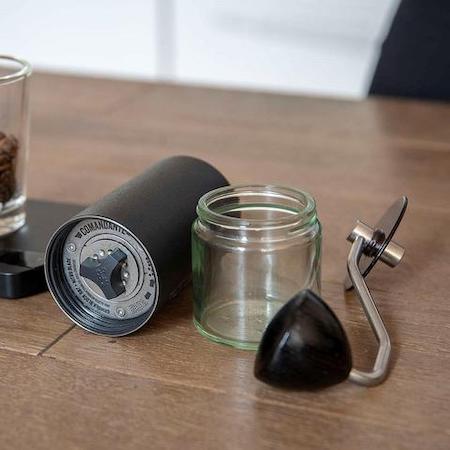 100% natural oak wood
The wooden handle is made in the Black Forest region, is made of 100% natural oak wood, and is mounted by pressing the button on the crank. You can remove it and reassemble it. The shape of the wooden handle has been designed to be comfortable and feels solid during grinding. All wooden surfaces were treated with a waxed oil.
Safe TRITAN ™ (BPA free)
All parts of the frame made of synthetic material are made with BPA-free co-polyester TRITAN ™, which is known as a robust and tear-resistant synthetic material. According to Eastman, TRITAN ™ is not only BPA-free, but is not manufactured with bisphenol-S or any other bisphenol compound. In addition, they have been tested in TRITAN ™ third-party laboratories and the results have shown that they are free of estrogenic and androgenic compounds.